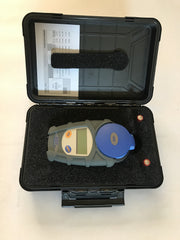 Hard Case for VST LAB Coffee Refractometer
This product is temporarily unavailable
Light-weight hard case - designed for all VST LAB Coffee Refractometers.
Insulated to keep temperature stable when moved to warmer/cooler conditions. Approximate Dimensions: 9 x 6 x 2.5 inches.  Color: Black. Weight: 0.7 LBs.
Compliant foam insert custom cut to fit LAB Coffee Refractometer with Soft Shell and cut outs for spare batteries.