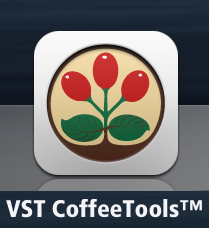 VST CoffeeTools™ for Windows v4
UPDATED 2020-12-01
NEW!....VST CoffeeTools™ for Windows v4

Coffee Tools Application for Coffee/Espresso/Cupping Beverage Preparation and Equipment Design Professionals

Includes VST Universal Coffee Brewing Control Chart for Espresso, Coffee and Cupping modes.
Compatible with VST LAB Coffee and Coffee/Espresso Refractometers
Available in 1, 5 and 10-Seat Licenses (select from drop-down menu)
(available bundled at a discount) 
Updated simplified graphical user interface
Includes all Drip & Immersion Coffee, Cupping and Espresso Modes
Official software tool of the:
    •

Specialty Coffee Association of America (SCAA) -

BEST NEW PRODUCT, Education & Training, SCAA EXPO 2009
    •

Specialty Coffee Association of Europe (SCAE) 
    •

Norwegian Coffee Association (NCA) and 
    •

European Coffee Brewing Center (ECBC)

 
VST CoffeeTools™ Functions and Modes
Coffee Mode works with all methods of brewing coffee, regardless of brewing method (all Drip and Batch-Slurry methods)
Cupping Mode provides quick reference for correct water/coffee brew formulas and full charting features
EnterDesired Beverage amount, Brew Water, or Coffee Dose used, ExtractMoJo computes all values based on Strength and Extration yield specified. Enter measured % TDS and Beverage Yield, ExtractMoJo computes actual Extraction Yield and Liquid Retained Ratio. Density as a function of temperature is accounted for in all calculations using Brew Water or Beverage Volume. Full conversions are provided, including Metric/English and Weights/Volumes in any combination.
Weights & Volume conversions are included and all Metric & English units are fully supported in any combination.
ESPRESSO Mode – quickly determines extraction yield for professional baristas and specialty roasters using traditional espresso machines. Provides quick analysis for adjustments to eliminate taste defects associated with over-extracted (bitter) and under-extracted (sour) espresso.
Design inputs for CO2, Moisture, Liquid Retained Drip, Liquid Retained Immersion, measured beverage weight and % TDS values.
The VST Universal Brewing Control Chart™ is normalized for all methods of brewing and measurement, as well as for volume measurements as a function of temperature. All preferences are adjustable by user.
Plots design and measurement points for each recipe on a single Universal Brewing Control Chart™ for trouble-shooting equipment and methods (all modes).
Save, recall, print chart, print measurement functions fully supported
ELECTRONIC DOWNLOAD with installation Instructions sent w/in 24-hrs of purchase.
VST CoffeeTools™ Features include:
    • VST Universal Brewing Control Chart - Espresso, Coffee and Cupping functions included. Normalized calculations for fixed beverage amounts versus brew method for equivalent Strength and Extraction Yields regardless of brew method. Chart and brew formula normalized for water volume as a function of temperature, method and liquid retained preferences.
    •Second License Seat, install on up to two (2) Computers
    • Updated Universal Brewing Control Charts with Drag-N-Drop design feature
        Custom Region of Interest for Charting Preferences (all modes)
      
    • Drip & Immersion Coffee, Cupping & Espresso Modes Included
        Coffee Modes by Brew Water, Ground Coffee & Beverage Yield Amounts
 

System Requirements: