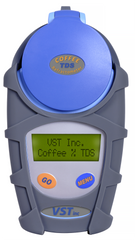 VST LAB Coffee III Refractometer-2022
previously $879.00 - $1,675.00
VST LAB Coffee III 4th Generation Refractometer
Bundled  with VST CoffeeTools™ Software & Accessories

          
Official Sponsor of the 2012 -2022

World Brewers Cup, World Cup Tasters & World Barista Championship

VST LAB Coffee III Refractometer w/ VST CoffeeTools Software & Soft Case
Updated LAB III version with improved temperature resolution, precision, accuracy and battery life. See full specifications in updated product brochure.

Final Quality Assurance Certificate with NIST Traceable Reference Standards Measurements Included (at no additional cost).
VST LAB Coffee III Refractometer Brochure 
•Windows or macOS for desktop or notebook computers-
Included at no additional cost (New Windows v4 or macOS version)
Optional - Mobile versions are sold separately
- VST CoffeeTools PRO for iPhone/iPad available from iTunes APPs store
- VST CoffeeTools for Android available from GooglePlay Apps store
Includes:
VST LAB Coffee III Refractometer w/integrated auto-ranging Coffee & Espresso TDS Scales - Coffee-Espresso: 0.00-20.00%


VST CoffeeTools Software for Windows or macOS

Rubberized silicone armor jacket (Gray or Orange)

Pipettes and Cleaning Pads Kit (10 ea)
Optional: (Add during checkout for significant discounts or see Refractometer Accessories)
Recommended: (See Refractometer Accessories)
Optional Hard Case Insulated, Water & Dust Resistant, Foam Insert, Cutouts for spare batteries, Protects your investment (Recommended)
Extra Syringe Filters and Syringes-for espresso or coffee brewed with metallic mesh or perforated filters (Available in bulk)
Extra Pipettes (Available in bulk)
VST LAB Coffee/Espresso III Refractometer Features include:
Improved precision +/- 0.01%, improved accuracy +/- 0.03% in coffee range, +/- 0.05% in espresso range
Automatically averages multiple measurements and displays the resulting % TDS in 2-3 seconds
Advanced optical engine with 1024 element detector array and sapphire optics
Includes auto-ranging Coffee-Espresso % TDS Scale
24-character easy to read back-lit display
Evaporation cover & ambient light shield
Easy-clean stainless steel sample well
Temperature stability function 
Smart Zero-Set Software
Silicone armor jacket
Five languages
VST CoffeeTools™ Software- Now Included at N/C

See
VST Software
for full description & operating system requirements
Distributed Worldwide
Orders received by 11:00AM EST Ship Same Day, otherwise Next Business Day. Non U.S. orders may take 24-hrs to clear credit-card payment gateway.
Shipping Rate includes insurance for full replacement value and a Signature is Required at the Delivery Address.
SHIPPING RESTRICTIONS:
WE WILL NOT SHIP TO A FREIGHT FORWARDING SERVICE.

United States
United Kingdom
Netherlands
Taiwan
Hong Kong
South Korea
Australia
Malaysia
China
Czech Republic:
Poland:
India                                  
United Arab Emirates       
Note: Some accessories images shown below are optional, select from drop-down pricing menu, above.
All images are copyright VST, Inc. and may not be used without permission. ©2010-2022