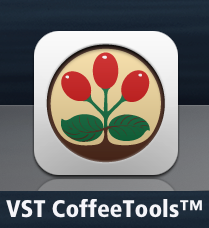 VST CoffeeTools™ for Mac OSX
previously $745.00 - $1,490.00
VST CoffeeTools™ 2.0 for macOS v10.12 (Sierra) and later.
Available with 2, 5 or 10-Seats.

Improved User Interface in sync with iPhone PRO and iPad APPs
Import/Export database in .csv or .vstrecipes file formats
Improved Recipe Sharing via Mail, Message, AirDrop, FaceBook, Twitter and Printing

Electronic download-Immediate Delivery (no shipping)
Comprehensive Measurement and Analysis Tools for the Coffee and Espresso Beverage and Coffee Equipment Design Industry
VST Universal Brewing Control Chart Software
For Coffee, Espresso, Cupping and Equipment Design
(all modes included)

DESCRIPTION
VST CoffeeTools is a comprehensive design and measurement application for coffee and espresso professionals, brewing equipment designers, baristas and coffee enthusiasts.  Fully functional with or without a coffee refractometer (add measurement data with a coffee refractometer).

SIMPLE 2-STEP DESIGN PROCESS
Design by Direct Data Entry to Chart – Drag-and-Drop: Just select the desired point for preferred brew strength and extraction on the chart, enter Beverage amount – VST CoffeeTools does all the rest. Automatically computes recipes and detailed results for any size or method of brewing from the specified starting Beverage, Brew Water or Ground Coffee amounts.
Scale any recipe instantly in any mode or configuration.
Convert any existing recipe from/to drip>>infusion or infusion>>drip.
All extraction yield calculations are normalized for brew water temperature, brew method, CO2 & moisture content and retained liquid amounts. Normalized charting ensures that taste characteristics are plotted similarly regardless of preparation method.  
Full design details and measured results are provided, including liquid retained and spent weights, as well as accurate beverage amount computations. 
Full conversions are provided in all units of volume & weight, metric & U.S. Standard (English) measurement systems.
Independent inputs are provided for measurement data and are plotted along with design data on same chart. Recall and plot any previous design and measurements data along side a new recipe.
ANALYSIS ON THE GO –
VST CoffeeTools is a virtual LAB in the field
Designed for portable or laboratory use, VST CoffeeTools provides a comprehensive set of Coffee and Espresso analysis tools for brewing, coffee roast analysis, cupping analysis, equipment design, brewing equipment and protocol setup and testing. 
Outstanding educational tool for teaching the basics of coffee chemistry.
Support for sharing, compatible with VST CoffeeTools for iPhone (MoJoToGo) and iPad (MoJoToGo PRO).
SHARE COMMUNICATE
Improved Recipe Sharing via Mail, Message, AirDrop, FaceBook, Twitter and Printing

Saved Measurements and Calculations include TDS, Extraction Yield, Dose, Brew Water, Beverage amounts, Brew Time or Shot Time, Brew Method (all methods supported), Pressure, Temperature, Pre-Infusion, Grinder/Setting, Roaster, Roast Date, Roast Style, Farm/Farmer, Barista Name/Notes and much more.
Operating System Requirements
Version 1.0 Mac OSX 10.7 or later
Verison 2.0 macOS 10.12 or later
Each License includes two (2) seats